Have a Facebook account and want to chat with other Facebook users?
Facebook chat is a heavily used chat system on the internet these days. For many people it is convenient to have connected family and friends just a click away for a quick chat. There are also ways to use various chat options on facebook to do group chats and even some chat roulette cam things have been added to facebook in different ways. Facebook is a common place for many people to chat who do not use other chat services, and many people who use them are not aware of the other options and pitfalls that are out there.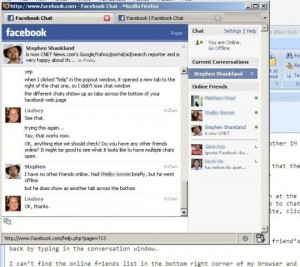 There have been many privacy issues raised with facebook chat, and fecbook in general over the past couple of years. In mid 2010 there was a bug exposed that allowed other people around the world to read other people's chats. We assume that this has been fixed as of early 2011, but you never know when other exploits or hacks are found with facebook, as it is under constant attack. So are privacy concerns with facebook itself, and many people see personal information that is gathered by facebook to be a major problem, rife with opportunity for abuses. Facebook being a place that people generally friend people they already know, is also not the best place to meet new people via chat rooms either.
Of course you could go around facebook trying to add friends and find people to chat with, bit there are many other options online that have a more open approach to general and niche chatting, and perhaps if you meet people and get to know each other better, maybe you will one day chat via facebook as you might add each other as friends. Some people will use the various facebook options exclusively and never venture into another chat client anywhere, for those people I fell sorry, there are so many other places out here in the inter web to find and talk with people.